A Disorder for Everyone! – The Online Festival by Jo Watson
AD4E is going online to bring you 14 continuous hours of inspiring content that challenges the culture of diagnosis and disorder!
Date And Time
Fri, 18 Sep 2020, 13:30 –
Sat, 19 Sep 2020, 03:30 IST
Location
Online Event
About this Event
14 hours of talks-poetry-interviews-presentations-videos-drama-panel- music etc All challenging the pathologising of emotional distress.
Dip in and out at your leisure.
Some of it will be recorded (with the contributors permission ) and added to the AD4E Youtube channel at a later date.
Pay what you want.
This is a fundraising event with a minimum fee of £1 to maximise accessibility. Please make a donation based on what you can afford. After covering tech costs funds will go towards AD4E's future events, enabling us to offer more low cost or free places for people who can't afford to pay.
Confirmed contributors:
Dr Lucy Johnstone
Indigo Daya
Dr Akima Thomas
Prof Emmy van Deurzen
Dr Gabor Maté
Ruth Dixon
Paula J Caplan PhD
Pat McArdle
Bob Whitaker
Johann Hari
Mica Gray
Dr Karen Treisman
Michelle Benjamin
Prof Peter Kinderman
Sanah Ahsan
Stevie Lewis
Dr Joanne Cacciatore
Dr James Davies
Matt Ball
Prof John Read
Sally-Ann
Viv Gordon
James & The Disorders
Lydia Daisy
Mitzy Sky
Daniel Macker
Rai Waddingham
Clare Shaw
Jo Watson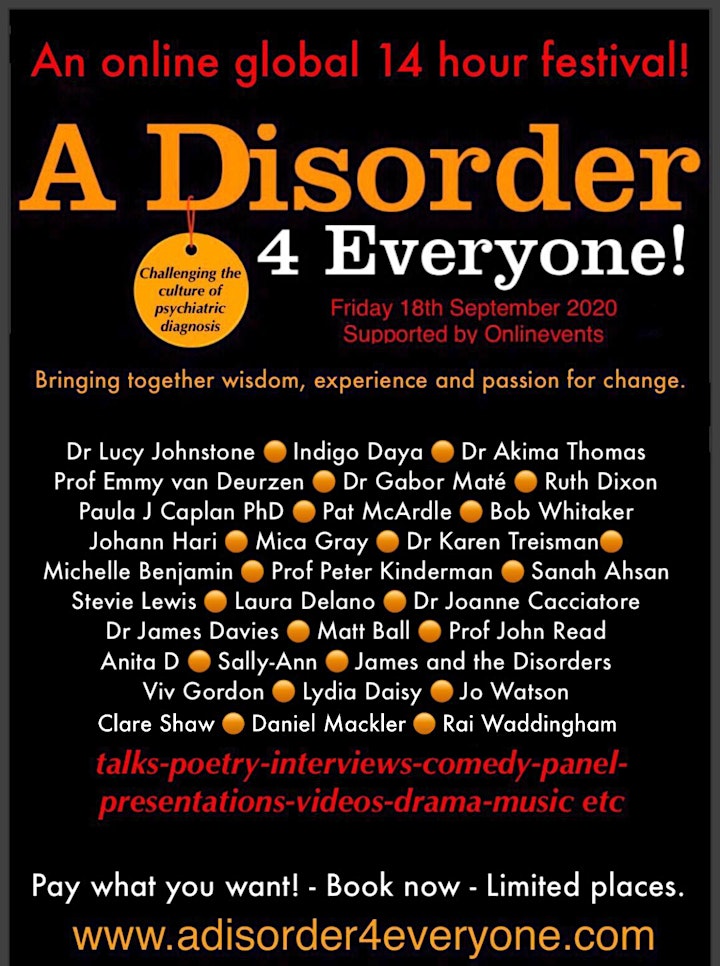 About Author